Warning
: Illegal string offset 'box_post_keywords' in
/home/proteins/public_html/wp-content/plugins/seo-smart-links-pro/seo-smart-links-pro.php
on line
433
Warning
: Illegal string offset 'box_post_keywords' in
/home/proteins/public_html/wp-content/plugins/seo-smart-links-pro/seo-smart-links-pro.php
on line
433
There could be several reasons that you may choose to have homemade protein shake, such as
knowing what goes in your protein shakes,
cost effective ways of having protein shakes
the ease with which you can have them available in a busy lifestyle like today's.
Whatever the reason, surely nothing beats a quick and healthy homemade protein shake.
You can have the variety such as low carb, low fat, low sugar…you name it. Protein shakes can be as gourmet as you wish when you opt to make them at home. You can add ingredients like low fat fruits sucs as berries, chia seeds which are packed with nutrients of all sorts, cereals if you need wholesome breakfast protein shake. And if you ever wondered the best time to have protein shakes, here's what my research tells:
1. Before bed. The reason this would be a good time to have a protein shake is because naturally when we sleep protein breaks down. When you are trying to build muscle you don't want that to happen and so drinking it right before bed will cause your protein metabolism to slow down. Now won't you want to have a good homemade protein shake to ensure a goodnight sleep rather than a ready made one full of preservatives.
2. Immediately after your workout. The reason this is a good time to have your protein shake is because now your body is in a state of growth and recovery; both of which require amino acids from protein. Your body deserves the best after a good workout and would blossom with a nourishing home blended protein shake.
3. First thing in the Morning. Since when you wake up you have been fasting for pretty close to 8 hours (or should be). This means that your body has not been breaking down any protein and is now at risk of getting into a catabolic state. Drinking a protein shake at this time will ensure that you don't break down your existing musc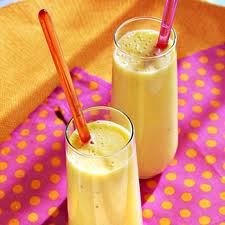 les to get the protein you need.
Whichever time you choose, make your homemade protein shake to suit your needs. Afterall your body is the temple to your soul. Here's the one that I love the most:
Mango Bliss
2-3 scoops vanilla protein powder
1/2 to 1 cup mango pieces frozen or freshly sliced natural mango
1 cup Vanilla cream top yogurt
1 Tbsp Flax seed oil
6-8 oz water
Related posts: