Warning
: Illegal string offset 'box_post_keywords' in
/home/proteins/public_html/wp-content/plugins/seo-smart-links-pro/seo-smart-links-pro.php
on line
433
Warning
: Illegal string offset 'box_post_keywords' in
/home/proteins/public_html/wp-content/plugins/seo-smart-links-pro/seo-smart-links-pro.php
on line
433
Warning
: Illegal string offset 'box_post_keywords' in
/home/proteins/public_html/wp-content/plugins/seo-smart-links-pro/seo-smart-links-pro.php
on line
433
I don't know of anyone till today who doesn't like chocolate. Well really there is my friend who refuses to have anything sweet until she learnt that I have been trying these new protein smoothie recipes which are not only healthy but are so delicious and yet so easy to whip up.
This was the first one she tried, and trust me she was naturally gravitated towards it rather than the usual "me trying to persuade her". The trick was that it had almonds in it and I knew she loves almonds for their protein, vitamin E and many other beneficial properties.
Here's the recipe:
Protein Smoothie 1 – Chocolate Almond Delight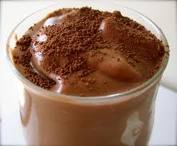 Ingredients & Procedure:
10-12 oz. pure water
15 raw almonds
1/2 tsp. coconut extract
1.5 oz protein powder (chocolate flavor)
Sugar or sweetener to taste (optional)
3-5 ice cubes (optional)
First, blend the almonds until creamy smooth in 1/2 the water, then add the rest of the Ingredients & blend until smooth.
So…. once she tried chocolate almond delight, she asked if I had any more of those protein smoothie recipes. I have tons of them. I know she likes fruity stuff so I got her to try the banana split protein smoothie.  Fruits, as we know, are packed with vitamins and anti-oxidants, therefore are great to boost our immune system. Bananas coupled with some protein food are a great filler and keep the hunger cravings at bay.
Protein Smoothie 2 –   Banana Split Smoothie
Ingredients & Procedure:
1 scoop protein powder
1/4-1/2 packet of sugar-free vanilla or chocolate Carnation instant breakfast
1/2 banana
2 cubes of fresh pineapple or 1 slice canned pineapple in its own juice
1-2 strawberries fresh or frozen
3 ice cubes
If you know someone who wants to lose weight or are simple looking for ways to make whey proten shakes, why not recommend  these recipes to them.
Sharing your knowledge of trendy protein smoothie recipes is a great way to keep friends interested in your lifestyle because it is healthy and it rocks!
Related posts: