Warning
: Illegal string offset 'box_post_keywords' in
/home/proteins/public_html/wp-content/plugins/seo-smart-links-pro/seo-smart-links-pro.php
on line
433
Warning
: Illegal string offset 'box_post_keywords' in
/home/proteins/public_html/wp-content/plugins/seo-smart-links-pro/seo-smart-links-pro.php
on line
433
Warning
: Illegal string offset 'box_post_keywords' in
/home/proteins/public_html/wp-content/plugins/seo-smart-links-pro/seo-smart-links-pro.php
on line
433
Warning
: Illegal string offset 'box_post_keywords' in
/home/proteins/public_html/wp-content/plugins/seo-smart-links-pro/seo-smart-links-pro.php
on line
433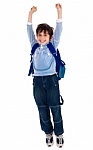 As far as your kids' overall performance at school is concerned, be it education, sports or any other extra curricular activities, the key to your kid getting ahead is having good nutrition. Protein drinks for kids are a good and healthy way to start the day for any child. They are somewhat an all-round kind of meal in the sense that they can provide items from all the food groups in one glass. Feeding them these drinks can help them get the nutrients they need without having to force them to eat their vegetables and whole grains.
It is known that vegetarians get their protein from soy products and nuts and both these items are great for making protein drinks for kids. To show you just how easy it is to help your kid get ahead in school with the help of a healthy high protein drink we have included a simple recipe below that you can whip up in no time at all; less time than it would take for you to make them a healthy conventional breakfast.
This recipe is for a peanut butter and banana smoothie and is great for peanut butter loving children; you will need the following items.
• ½ cup rice/soy milk
• ½ cup silken tofu
• 1/3 cup peanut butter of your choice
• 2 frozen bananas
• 2 tbsp. chocolate syrup
In your blender add the milk, tofu and peanut butter and blend until combined well. Next add the chocolate syrup and bananas and blend until smooth. More ice can be added for a thicker texture.
This drink is not only suitable for breakfast but for any time of day. It is a great afternoon snack or a great refresher after an afternoon game. Something as simple as protein drinks for kids helping them do better at their school activities is an added benefit and an enormous peace of mind for parents.
Related posts: