Warning
: Illegal string offset 'box_post_keywords' in
/home/proteins/public_html/wp-content/plugins/seo-smart-links-pro/seo-smart-links-pro.php
on line
433
Warning
: Illegal string offset 'box_post_keywords' in
/home/proteins/public_html/wp-content/plugins/seo-smart-links-pro/seo-smart-links-pro.php
on line
433
Warning
: Illegal string offset 'box_post_keywords' in
/home/proteins/public_html/wp-content/plugins/seo-smart-links-pro/seo-smart-links-pro.php
on line
433
Warning
: Illegal string offset 'box_post_keywords' in
/home/proteins/public_html/wp-content/plugins/seo-smart-links-pro/seo-smart-links-pro.php
on line
433
Warning
: Illegal string offset 'box_post_keywords' in
/home/proteins/public_html/wp-content/plugins/seo-smart-links-pro/seo-smart-links-pro.php
on line
433
Warning
: Illegal string offset 'box_post_keywords' in
/home/proteins/public_html/wp-content/plugins/seo-smart-links-pro/seo-smart-links-pro.php
on line
433
Warning
: Illegal string offset 'box_post_keywords' in
/home/proteins/public_html/wp-content/plugins/seo-smart-links-pro/seo-smart-links-pro.php
on line
433
Warning
: Illegal string offset 'box_post_keywords' in
/home/proteins/public_html/wp-content/plugins/seo-smart-links-pro/seo-smart-links-pro.php
on line
433
Warning
: Illegal string offset 'box_post_keywords' in
/home/proteins/public_html/wp-content/plugins/seo-smart-links-pro/seo-smart-links-pro.php
on line
433
Warning
: Illegal string offset 'box_post_keywords' in
/home/proteins/public_html/wp-content/plugins/seo-smart-links-pro/seo-smart-links-pro.php
on line
433
Warning
: Illegal string offset 'box_post_keywords' in
/home/proteins/public_html/wp-content/plugins/seo-smart-links-pro/seo-smart-links-pro.php
on line
433
Warning
: Illegal string offset 'box_post_keywords' in
/home/proteins/public_html/wp-content/plugins/seo-smart-links-pro/seo-smart-links-pro.php
on line
433
Warning
: Illegal string offset 'box_post_keywords' in
/home/proteins/public_html/wp-content/plugins/seo-smart-links-pro/seo-smart-links-pro.php
on line
433
Warning
: Illegal string offset 'box_post_keywords' in
/home/proteins/public_html/wp-content/plugins/seo-smart-links-pro/seo-smart-links-pro.php
on line
433
Warning
: Illegal string offset 'box_post_keywords' in
/home/proteins/public_html/wp-content/plugins/seo-smart-links-pro/seo-smart-links-pro.php
on line
433
Warning
: Illegal string offset 'box_post_keywords' in
/home/proteins/public_html/wp-content/plugins/seo-smart-links-pro/seo-smart-links-pro.php
on line
433
Soy protein shake is a highly nutritious drink that is soaring high in protein however, low in fat. Among all other protein, soy protein is the best of them. It's considered to be as better as animal protein. In fact, soybean contains about 35% of protein. Some various types of soybeans can contain as much as 40 to 43 percent of protein. As compared to corns, grains, green beans, fishes, meat, and eggs, soy protein powder is just as fine among all of them because it has all the key amino acids for human nutrition. According to studies have depicted that soy protein can be utilized to lessen cholesterol in the body.
Protein is the one responsible for building muscle in our body. When working out, your muscles are used up of amino acids. In this type of case, soy protein shakes with great biological value is preferable. The biological value of protein shows how effective and how fast your body can absorb it to restore your muscle mass. The greater the BV, the faster your body can absorb.
This type of prot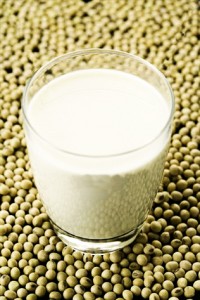 ein powder is known is fast reacting protein. It can able to be broken down to amino acids and spread all the way through your body. This kind of protein is excellent to maintain or boost your muscle size. Also, its benefit for restoring muscle, it offers quicker recovery for athletes who really train in high intensity. Studies show that utilization of protein powder can reduce muscle inflammation, decrease body fat level, and boost up muscle mass.
Not only does soy protein shakes contain a high quantity of protein, it also contains calcium, as well. This mineral is tremendously important in human body. Ninety nine percent can be located in bones and the other one percent can be located in soft tissues. Calcium is responsible to improve bone strength and muscle functioning. High consumption of protein can cause a offshoot of boosting up of calcium excretion. This always happens to bodybuilders. This is why soy protein shake is extremely good for muscle growth.
In spite all the profits of soy protein shakes, some negative push about soy protein has lived over the years. The fable that soy protein has a feminizing effect has proven to be immaterial.
No related posts.